The WAPO Global Summit is an annual event that brings the members of the WAPO community together. This year the summit took place from October 6-8th, at the Novotel Buenos Aires in the beautiful city of Buenos Aires, Argentina.
The three day event gathered more than 40 attendees, including 22 patient advocates from 19 countries (representing their WAPO member organizations), healthcare professionals and pharmaceutical representatives. Here is the report from the 2023 WAPO Global Summit covering all of the highlights!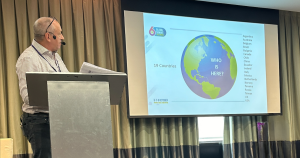 Day 1 of the 2023 WAPO Global Summit: Patient advocates in the spotlight
The first day started in the afternoon with a welcome from WAPO board member Clive Deverson. Four different patient advocates and a Nurse then took the stage to talk about their personal experiences as a patient advocate, nurse and their best practices. One of those was WAPO Board Member Robert Brady, who shared his experience as a patient with craniopharyngioma (a non-cancerous tumor of the pituitary gland). As a result of removing the tumor, Robert lives with panhypopituitarism (deficiency of hormones produced by the pituitary gland) and has to take hormone replacement therapy (HRT). He shared how his personal experience with a pituitary disorder pushed him to become involved in patient advocacy as a volunteer for Pituitary Foundation Ireland and the various activities he participates in. Another presentation from this session included Alexandra Huayamave, a nurse from the Guayaquil Specialty Hospital in Ecuador, who shared how they support acromegaly patients.
After a quick coffee break, Sabrina Brignardello took the stage to give her talk on Clinical Trials & Access to Information. Sabrina works for Un Ensayo para Mí, the leading Spanish-language search engine for clinical trials in Latin America. She informed participants on how patients with pituitary disorders can participate in clinical trials and share these opportunities with their patient community in order to advance research. Participating in clinical trials is just one example of why patient organizations are vital to both patients and healthcare professionals.
A final presentation entitled Rediscovering my NGO, by Manuela Pelleri from Soy Paciente in Argentina, took place before the participants gathered for dinner in the conference venue's dining room. This was the first opportunity for patient advocates as well as the various speakers and representatives from the pharmaceutical companies present to connect (or reconnect) and share ideas for the future. Many were familiar faces but first-time attendees had a chance to mingle and share their journeys with other patient advocates.
Day 2 of the 2023 WAPO Global Summit: Focus on diagnosis and care of pituitary disorders
Saturday morning kicked off with an informative presentation from Dr. Alvaro Campero, a neurosurgeon from Hospital Ángel C. Padilla in Tucumán, Argentina, on the topic of How do patients find the right place for treatment? This presentation highlighted the importance of educating all healthcare professionals on pituitary disorders so that patients can quickly be referred to an expert center for diagnosis as well as proper management and treatment of their condition.
After a quick coffee break, Dr. Chris Yedinak, who is an associate Professor at the Oregon Health & Science University in Portland, USA, gave a very comprehensive overview of growth hormone deficiency in adults and children. Participants learned the definition as well as the signs and symptoms of growth hormone deficiency. The causes of a growth hormone deficiency, meaning that the body produces insufficient amounts of growth hormone, were also discussed as well as the treatment.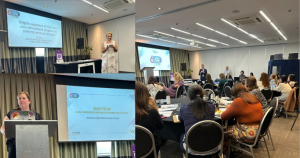 Dr. Alvaro Campero then returned for a presentation on the evolution of pituitary surgery and current state of the art in the surgical treatment of pituitary tumors. This very educational session left participants with a greater understanding of the latest surgical techniques (and their benefits) for the treatment of pituitary tumors.
The 2023 WAPO Global Summit continued after lunch with an exciting presentation by Els Rutten, an endocrine Nurse from Gent Hospital in Belgium. As an endocrine nurse specializing in acromegaly and Cushing's, Els set up a home education program for acromegaly patients in Belgium. It involves her travelling to the patient's home in order to educate them on their condition and how to properly administer their treatment. Patients with acromegaly are often started on hormone replacement therapy (HRT) without many instructions or support. They may receive some explanations from a nurse at the time of their diagnosis, but others are left to figure it out on their own. Els shared several stories from patients who she had visited and described how it increased their satisfaction in the care received. All agreed that this sort of program would be beneficial to acromegaly patients everywhere and should be extended to other countries
Following a quick break for a group photo, the final panel session commenced with Clive Deverson talking about the rules and regulations followed by pharmaceutical companies wishing to interact with patient organizations and how successful patient-industry collaborations are formed.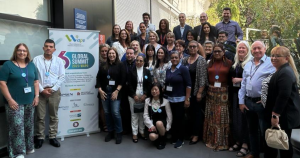 Then Gretchen Jordan from The Cushing's Support and Research Foundation (CSRF) gave an update on the Global Quality of Life Survey conducted by CSFR and supported by WAPO, which asked questions about diagnosis, treatment and quality of life of patients living with Cushing's. She mentioned how participation increased once it was shared with 10 patient support groups on Facebook, showcasing the power of these private online support groups. The results from this survey will be published soon.
Chris Yedinak (US) and Els Rutten (Belgium) then spoke about the role of nurses in patient support. Finally, Robert Brady gave patient advocates his latest communication tips and tools to help reach more people via patient organization social media channels. It was a great way to end the first two days of the summit and participants.
Day 3 of the 2023 WAPO Global Summit: General Meeting and Training Program for Nurses
On Sunday morning the WAPO board and patient advocates from WAPO member organizations met for the WAPO Annual General Meeting. This interactive meeting was the opportunity for all patient advocates to discuss the accomplishments of 2023 and to go over the action plan for 2024.
At the same time as the WAPO General Meeting, the Training Program for Nurses took place, taught by Chris Yedinak. Five nurses from Argentina (including one sponsored by the Federation of International Nurses in Endocrinology (FINE)) had the chance to learn about nursing practices specific to pituitary disorders. Topics covered hormone physiology, prolactin and its link to infertility in both men and women and the importance of growth hormone. Each nurse left the training with a certificate of completion and new knowledge and skills that they can use in their daily practice. We hope to offer this training again in the future.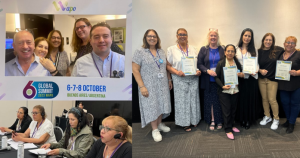 We would like to send a big thank you to our amazing sponsors: Recordati Rare Diseases and Ipsen (Gold Sponsors); HRA Pharma, Novo Nordisk and Crinetics Pharmaceutical (silver sponsors); and Ascendis Pharma (bronze sponsor).
Thank you also to the Federation of International Nurses in Endocrinology (FINE) who sponsored one nurse to attend the WAPO Summit Program.
Finally we would like to thank those who helped make the event run so smoothly with their organizational and interpretation support: CVENT Events (who designed the event's website and mobile application), El Cuore, Officinia Linguistica interpretariato & Traduzione and Patricia Vega Cervino conference interpreters (who allowed for simultaneous English/Spanish translations of the presentations) as well as DlC Audiovisuales, who are currently  working on the presentations so that they can be shared on the WAPO website/Library.
Overall, the 2023 WAPO Global Summit was a huge success and we would like to thank everyone who attended or who made this important event possible. We can't wait to see everyone again at next year's WAPO Global Summit!
The presentations from the summit will soon be available on the WAPO website so stay tuned to our social media accounts so you don't miss the announcement.
https://www.wapo.org/wp-content/uploads/2023/06/WAPO-blog-feature-image-630x630-1.jpg
630
630
Muriël Marks
https://www.wapo.org/wp-content/uploads/2023/05/logo-wapo-2023-1030x1030.png
Muriël Marks
2023-11-20 12:17:14
2023-11-20 12:29:33
Report from the 2023 WAPO Global Summit